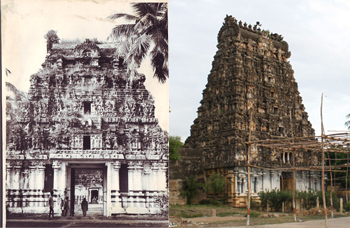 Thiruvaiyaru (also spelt as Tiruvaiyaru)) is a panchayat town in Thanjavur district in the Indian state of Tamil Nadu. It is situated on the banks of the river Kaveri, 13 km from Thanjavur, Thiruvaaiyaru has an old Shiva temple dedicated to Panchanatheeswar. Though pilgrims flock to this temple throughout the year, Thiruvaiyaru is more renowned for its association with Saint Thyagaraja, who, along with Muthuswami Dikshitar and Shyama Sastri, comprises the Trinity of Carnatic music. Thiruvaiyaru means Five Rivers around the city. The Five Rivers are Arisilaaru, Vennaaru, Vettaaru, Kudamuruttiyaaru and Kaaviriyaaru.Thiruvaiyaru is a small, quiet town. However, its modesty belies its importance as a pilgrim centre. On the National highway from Thanjavur,
Thiruvaiyaru is the headquarters of the Thiruvaiyaru taluk. Near the Shiva temple is the one-roomed house where Thyagaraja composed some of his greatest works. On the banks of the river is the samadhi of the saint composer and it is here that the greatest music festival in the country takes place annually. The Thyagaraja Aradhana festival is held in January when most of the leading exponents of Carnatic music come to perform and are watched by thousands of ardent fans of classical music. A huge complex is now under construction at this site to accommodate the large audience that come to the concert in ever increasing numbers every year.

The vast temple in this town, known as "Dakshina Kailasam" (Southern abode of Shiva), built in an area of approximately 60000 square meters, boasts of 5 'prakarams' (outer precincts used for religious purposes) and many 'mandapams' (great halls). Several inscriptions in the temple affiliates the temple to the Cholas, Pandyas, and other rulers. Karikala Chola, Rajaraja the great, Jatavarman Sundara Pandyan, and Krishna Devarayar are associated with Thiruvaiyaru. The temple has two distinct divisions called 'Uttarakailasam' and 'Dakshinakailasam'. Uttarakailasam was built by Rajaraja Cholan's queen in the late 10th century who also made several endowments . Dakshinakailasam was renovated by Rajendra Cholan's queen. Appar, one of the important Nayanmar, was closely associated with this shrine and dedicated one of the songs in 'Thevaram' to this temple [1]. The Tiruvaiyaru temple has also a shrine for Aatkondar or Kala Samharamoorthy, which is unique in the world. A Homa Kund started by saint Shri Adi Sankara can be found outside the shrine of Aatkonda.