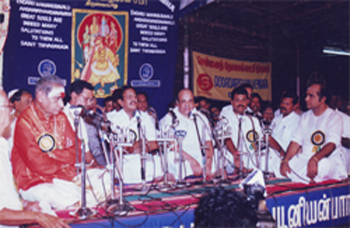 Sri Thyagaraja attained mukti in the year 1847. The mortal remains of this great soul were interred on the banks of the Kaveri and a Brindavana was erected over the spot.

The Umayalpuram brothers, Krishna Bhagavatar and Sundara Bhagaavatar and othes used to go to the Samadhi every year on the Pushya Bahula panchami day, do puja and then return home and perform the aradhana proper. From the year 1907 onwards, the Samadhi Utsava entered a new phase. Tillisthanam Narasimha Bhagavatar and Panju Bhagavatar, along with Tiruch Govindasami Pillai, the great violinist, began to celebrate the festival on a grand scale.

The late Bangalore Nagaratnamma earned for herself everlasting fame by spending all her savings for constructing the fine temple over the Samadhi in 1925. In her last will , executed in 1949, she has mentioned that she had a vision of Sri Thyagaraja on a night in October 1921, in the form in which she had conceived him in her daily worship. She settled down at Tiruvaiyaru an attained the lotus feet of Sri Thyagaraja on 19.05.1952. Her Samathi was erected opposite to the sait's samathi.

The Tyagabrahma Aradhana Mohotsava Sabha has been celebrating , since 1940, an annual fiestival at the Asramam on the day the Saint shed his mortal coil. The celebrations are conducted on a large and impressive scale and have attained all-India importance. Musicians from all over South India and other parts of India attend the festival and large crowds gather to hear the concerts arranged in connection with it. The religious part of the functions is conducted with austerity by the Nagaratnama Trust. This Utsavam falls every year on the fifth day after the full moon in the month of Pushya(January).

In 1956, Sriramgam Sundaram Iyer, a retired official of the postal department an ardent devotee of Sri Thyagaraja, deided to have all the kritis of the saint engraved on marble slabs and installed on the walls of the Asramam. How this humble individual was able to import Carrera marble from Italy and got 650 Kritis inscribed and installed is a saga of faith and devotion. Donations came pouring in from musicians and devotees from all over India Sri. T.S. Parthasarathy, editor of this souvenir, prepared the authentic texts of the songs in three different scripts and checked the slabs before installation. As the wall space around the Asramam soon got filled up, Sri Iyer utilized the collections to construct the present Valmiki Mantapam to accommodate the remaining slabs.

Sri Thyagaraja Asramam has thus become a hallowed spot, inspiring and purifying thousands of devotees who congregate there year after year.